The Rainbow Party is a political party in Greece who self describe as representing the interests of an "ethnic-Macedonian" minority in Greece. The Rainbow Party asserts that it stands for the principles of human rights, civility and integrity. In the 2004 European Parliamentary elections Rainbow managed to obtain 6,176 votes, equalling to .098% of the popular vote in Greece. This figure should be a sobering indicator to nationalists from the Former Yugoslav Republic of Macedonia (F.Y.R.O.M) of the number of people who affiliate with a "Macedonian" ethno/national identity in Greece. This political barometer, set in the process of an internationally monitored democratic process, indicates that the unsubstantiated figure of "hundreds of thousands" of "ethnic Macedonians" living in Greece is nothing more than political propaganda being peddled by nationalists from F.Y.R.O.M and her diaspora.
The Rainbow Party's official website is florina.org

A domain lookup of florina.org, freely available from the internet website http://whois.domaintools.com/, reveals that Lubi Uzunovski is the registrant and administrator of the Rainbow Party's website: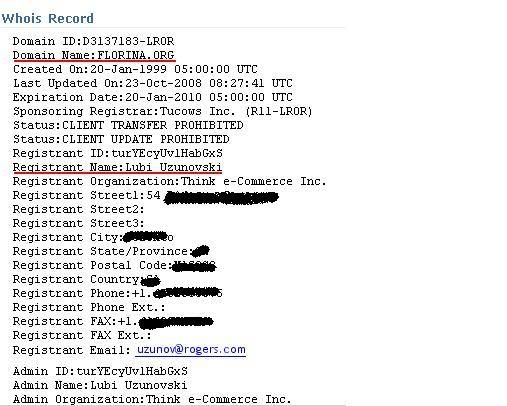 A quick domain lookup reveals that Mr. Lubi Uzunovski is the registrant and administrator of the maknews.com website: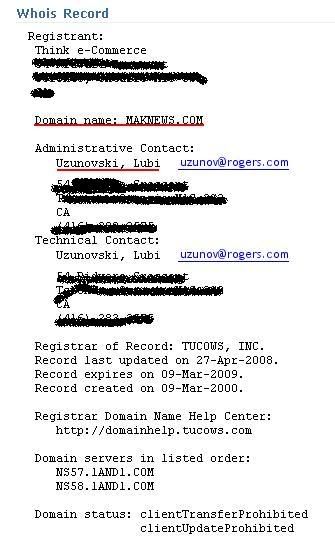 Hence both maknews.com and florina.org are administered by and registered to Mr. Lubi Uzunovski.
The Rainbow Party website implicitly sanctions and recommends maknews.com through a link advertised on their website as can be evidenced by the following list of links taken from their website:

Readers should be concerned by the fact that the Rainbow Party has associated itself with Mr. Uzunovski by implicitly sanctioning Maknews.com and by having their official website, florina.org, admistered by and registered to Mr. Uzunovski.
To illustrate why the relationship between Uzunovski, his website maknews.com, and the Rainbow Party is indicative that the Rainbow Party is interested more in propaganda and less in civility, human rights and integrity, let us first examine statements from their manifesto which is published on their website.
To begin with the Rainbow manifesto claims that they have aligned itself with anti-chauvanist and anti-nationalists forces in Greece:

If the Rainbow Party is so concerned with aliging themselves with anti-nationalist and anti-chauvanist forces why have they allowed their official website to be registered to and administered by Mr. Uzunovski who holds the following beliefs which he regularly advertises on maknews.com, the same maknews.com which the Rainbow Party implicitly sanctions with an advertised link.
Uzunovski's Belief #1: Hellenism is a disease and a cult:

Uzunovski's Belief #2: Modern Greeks fake their ethnic Heritage and belong to a cult.

Uzunovski's Belief #3: Greeks are "Twats". The Greek identity was invented by a 17 year old King who lived in the 19th century:

Mr Uzunovski's feelings regarding the Greek nation: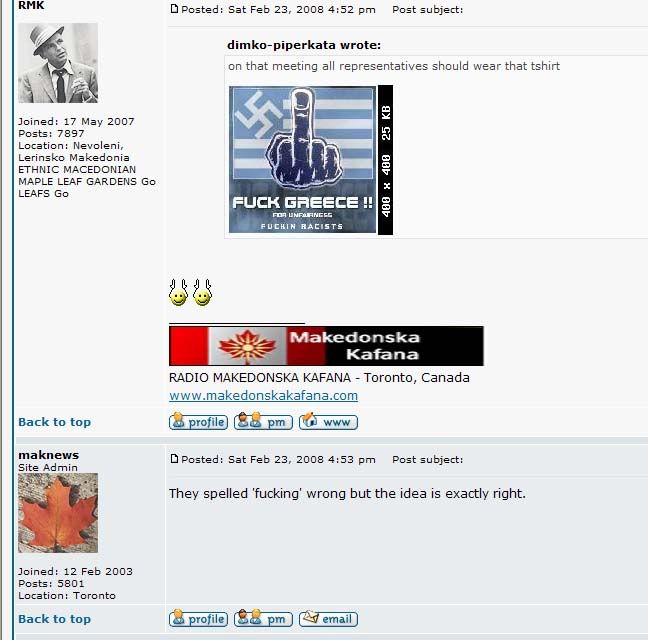 Furthermore, the Rainbow Manifesto claims that they promote friendly and peaceful relations with their neighbours:

Perhaps the Rainbow Party should be equally concerned with promoting friendly and peaceful relations with the Greek people they live amongst by not advertising a website where one can read the following racist filth authored by a forum moderator:
This racist filth is akin to Nazi ideology which suggested the Jews were an inferior race. This racist filth was authored by a forum moderator on maknews.com who was given moderator status by Mr. Uzunovski.
Finally, in the following example Mr. Uzunovski hinted at acts of violence against Greeks in diaspora communities. If the Rainbow Party was so concerned about inter ethnic relations, anti-chauvanism and anti-nationalism why would they associate themselves with Mr. Uzunovski and his maknews.com website?

If the Rainbow Party was an American political party one can only imagine the public outcry if the party's official website advertised a link to a site where Jewish people or African American people were described in the same manner in which Mr. Uzunovski and his cohort(s) describe Greek people. It is hypocritical for the Rainbow Party of Greece to tout itself as a champion for human rights while implicitly sanctioning the notions put forth by Mr. Uzunovski and his maknews cronies.